Universal Studios Florida Tickets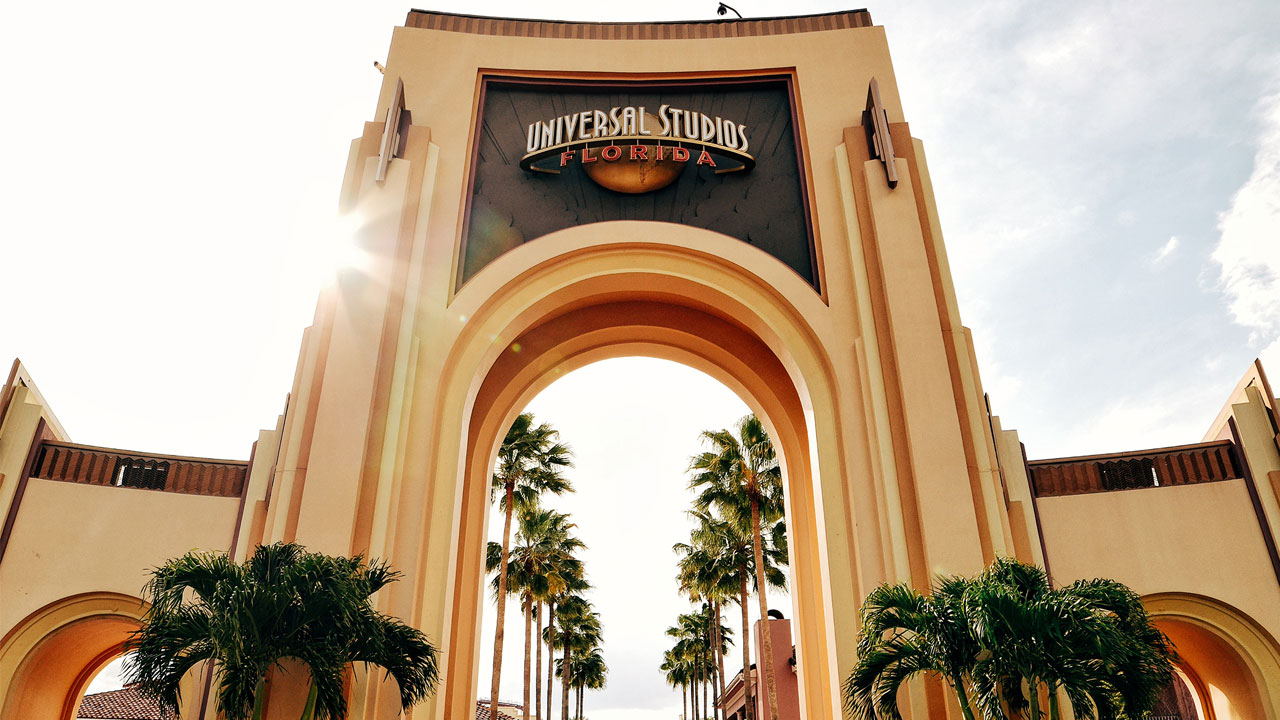 Universal Studios Florida
Step through the huge arches of Universal Studios Florida, and find out why starring in some of the biggest movies and TV shows is way better than watching them! You'll be making memories you'll never forget amongst the backdrop of Hollywood style stunts and thrills.
Action-Packed Adventure and Thrills If you're the type who likes their movies with large helpings of action, then you'll love what Universal Studios Florida has in store for you. Join the battle in an intergalactic war between the Autobots and Decepticons on TRANSFORMERS: The Ride – 3D, and experience a wild ride through Krustyland on The Simpsons Ride™. Then escape the undead on Revenge of the Mummy®!
For the Kid in All of Us Deep down inside all of us, there is an inner child who has not forgotten how to have fun. So come join E.T.® as you fly your bike across the stars on a journey to his home world on E.T. Adventure®; help everyone's favorite green ogre, Shrek, save Princess Fiona one more time in Shrek 4-D; and do not miss out on joining Gru, the world's most lovable super-villain, and his Minions on the 3-D ride Despicable Me Minion Mayhem, based on the hit movie Despicable Me. There's so much for your kids (or the kid inside you) to do!
Fun Shows For the Whole Family You'll make memories that will last a life time while you're vacationing with the family. Like remembering when Dad laughed so hard at Universal Orlando's Horror Make-Up Show that he almost cried. Or singing out loud with all the kids at Beetlejuice Graveyard Revue.
The Wizarding World of Harry Potter™ – Diagon Alley™
Follow in Harry Potter's footsteps as you walk through the streets of London, and enter Diagon Alley™ where you'll find many of the wizarding world's most famous establishments. Dine at the Leaky Cauldron™, see a wand choose a wizard at Ollivanders™ wand shop, and get ready to travel deep below Gringotts™ bank for a multi-dimensional thrill ride.
Harry Potter and the Escape from Gringotts™
Enter Gringotts™ bank beneath the massive fire-breathing dragon at the far end of Diagon Alley™. Inside, walk through the bank's grand marble lobby and see goblins hard at work. Then, get ready to take a journey through cavernous passageways that lead deep underground as you climb aboard this mind-blowing, multi-dimensional thrill ride.
The Hogwarts™ Express
For the first time ever, Muggles™ can ride on the Hogwarts™ Express. Guests with Park-to-Park admission can travel between Hogsmeade™ Station (in Universal's Islands of Adventure) and King's Cross Station (in Universal Studios Florida) on the iconic scarlet steam engine, encountering different characters and creatures from the Harry Potter™ stories each way.  
Top Rides at Universal Studios Florida
TRANSFORMERS: The Ride – 3D Prepare for the greatest battle you'll ever ride. The new TRANSFORMERS: The Ride–3D is an ultra-immersive sensory experience that puts you on the front lines of an intergalactic war between the Autobots and Decepticons. Fight alongside Optimus Prime and Bumblebee as they protect the AllSpark from being captured by Megatron and his Decepticon army. The line between fiction and reality blurs as epic high-definition 3D film is fused with flight simulation technology to redefine thrill rides. The battle continues at Universal Orlando Resort.
Despicable Me Minion Mayhem Join Gru, his daughters and the mischievous Minions on a hilarious and heart-warming 3-D ride. You're launched into an unforgettable trip through Gru's super-villain laboratory. Gru, Margo, Edith, Agnes, and the Minions race along with you through every zany twist and turn. Afterwards, show off your best moves in a Minion-inspired dance party.
The Simpsons Ride™ Join Homer, Marge, Bart, Lisa and Maggie on a wild ride through Krustyland with all the humor and comedy that The Simpsons offer! With awesome special effects and creative design this ride brings Springfield to life!
Kang & Kodos' Twirl 'n' Hurl Foolish humans! Take an intergalactic spin on the brand-new Kang & Kodos' Twirl 'n' Hurl. You'll join the one-eyed green aliens from The Simpsons Halloween specials on a ride designed to send your lunch into orbit.
Race Through New York Starring Jimmy Fallon™ Join Jimmy Fallon and all your favorite characters from The Tonight Show in a fun-filled race through, below and above New York City.
Shrek 4-D Join Shrek, Donkey and Princess Fiona on a "4-D" adventure that occurs between the Oscar-winning film Shrek and Shrek 2.
Revenge of the Mummy® Plunge into total darkness on this indoor roller coaster as you face fireballs, scarab beetles and an army of warrior mummies.
Hollywood Rip Ride Rockit® Get ready to take your music for a rideSM while listening to music you pick on this outdoor roller coaster that sends you through the world's first non-inverting loop.
MEN IN BLACK™ Alien Attack™ As an agent-trainee, your alien-zapping skills will be tested in this amazing ride through the streets of New York. It's never the same ride twice.
E.T. Adventure® Hop aboard your starbound bike and help E.T. save his dying planet.