Universal's Islands of Adventure Tickets!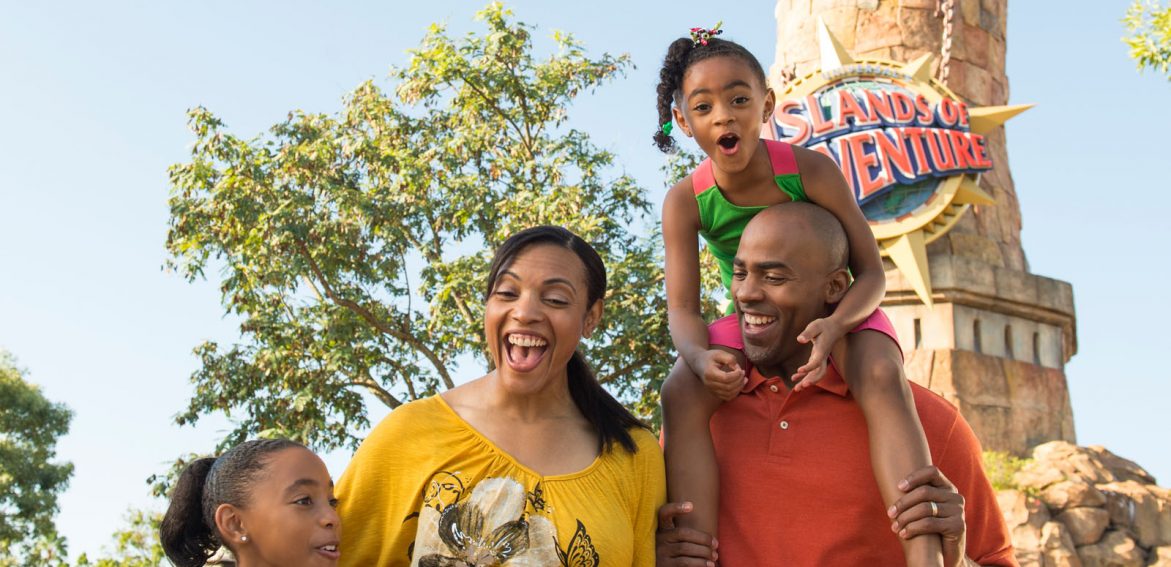 Universal's Islands of Adventure
Take a thrilling journey across uniquely themed lands where amazing adventures come to life. Escape the gaping jaws of a fearsome T-rex on the Jurassic Park River Adventure®; join Spider-Man™ in his battle against super villains on The Amazing Adventures of Spider-Man®; and step into the magic and excitement of The Wizarding World of Harry Potter™ – Hogsmeade™.
Pulse-Pounding Thrills Any thrill-seekers in the family? Well, look no further! Islands of Adventure has all the thrills you have been seeking. Ride edge-of-your-seat roller coasters like The Incredible Hulk Coaster® and Dragon Challenge™. Soar above Hogwarts™ castle on the groundbreaking ride Harry Potter and the Forbidden Journey™, which lets you join Harry Potter™ and his friends on an unforgettably thrilling adventure. And rescue New York City from the Sinister Syndicate on The Amazing Adventures of Spider-Man®.
For the Young and Young at Heart You will find that in Islands of Adventure you are never too young or too old for a little excitement. In the wonky Seuss Landing™, explore the whimsical world of Dr. Seuss. Get sucked into the fun at Toon Lagoon® as you get splash-happy on the water rides there. Then enjoy a bit of danger mixed with science fiction as you go back in time to the prehistoric era in Jurassic Park®.
Exciting Shows You'll be amazed as one of the biggest stories in fantasy is brought to life in The Eighth Voyage of Sindbad®. You'll be gasping for air from all the cheering and ducking at the amazing stunts performed in this action-packed show. Then, at Poseidon's Fury®, go on an adventure underneath the sea with amazing special effects!
The Wizarding World of Harry Potter™ – Hogsmeade™
Explore the mysteries of Hogwarts™ castle, visit the shops of Hogsmeade™ and experience pulse-pounding rides and attractions that transport you into a world of magical thrills and excitement.
Harry Potter and the Forbidden Journey™
Enter through the towering castle gates and make your way down the familiar passageways and corridors of Hogwarts™ School of Witchcraft and Wizardry. You'll visit iconic locations such as Dumbledore's office, the Defense Against the Dark Arts classroom, the Gryffindor™ common room, the Room of Requirement and more. Then get ready to soar above the castle grounds as you join Harry Potter™ and his friends on an unforgettably thrilling adventure, coming face-to-face with an array of magical creatures! This amazing attraction uses groundbreaking state-of-the-art technology (and a little magic) to create a one-of-a-kind ride experience.
The Hogwarts™ Express
Guests with a Park-to-Park Admission Ticket will be able to ride the Hogwarts™ Express* between Hogsmeade™ Station (in Universal's Islands of Adventure) and King's Cross Station (in Universal  Studios®). It's a different experience each way!
Top Rides at Islands of Adventure
Skull Island: Reign of Kong™ Brave the dangers of a mysterious island where few have dared to venture. On your treacherous jungle expedition, prehistoric predators and vile creatures attack from all sides. Just as all seems lost, the most colossal ape ever to walk the Earth—King Kong—hurls himself between you and certain doom. Is he your hero or the ultimate foe?
The Amazing Adventures of Spider-Man® Get ready to swing along with your friendly neighborhood Spider-Man™! Recently updated with all-new HD animation, audio, lighting, high tech 3-D glasses and more, this ground breaking attraction is going to exceed your wildest expectations again! The graphics are so clear, you might catch yourself counting the stitches on Spider-Man's glove!
The Cat in the Hat™ Ride your couch through the pages of this beloved children's book, and spin and swerve your way through a mischievous adventure!
Jurassic Park River Adventure® Enjoy a thrilling river raft ride through primeval dinosaur habitats, but…WATCH OUT! A hungry T-rex might be loose!
The Incredible Hulk Coaster® This coaster was built for adrenaline junkies! It features a powerful launch system like the one used to catapult jets from the deck of an aircraft carrier. You'll dive over 150 feet down and reach speeds of over 67 mph!
Dudley Do Right's Ripsaw Falls® Hop in a log and hang on as Dudley-Do-Right takes you on a wild and wet flume ride.
Doctor Doom's Fearfall® Strap yourself in as Doctor Doom's diabolical new device rockets you 150 feet into the air and then drops you faster than gravity itself.
Popeye & Bluto's Bilge-Rat Barges® Brave white-water rapids in this twisting, churning and splashing raft ride.
© 2023 MARVEL. Universal elements and all related indicia TM & © 2023 Universal Studios. All rights reserved.