Sleuths Mystery Dinner Show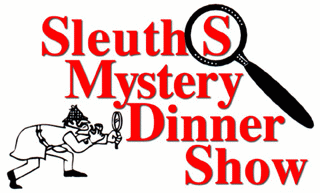 The Sleuth's Mystery Dinner Show in Orlando Florida is one of the premier attractions. Visitors will be delighted with the friendly customer service. The amount of entertainment packed within the 2 1/2 hour presentation will rival the theme parks. Bang for the buck, it can't be beat! At Sleuth's Mystery Dinner Shows in Orlando, the shows are rotated nightly to feature one of eleven different variations in story-lines and characters. Be sure to keep you eyes opened and ears perked as everything around you is a clue. You will need to gather all the clues and utilize your powers of deduction to find the mystery murderer!
The show consists of three parts:
At first, you will be introduced to the setting and the characters will slowly be built into the story line. Be very aware of everything that is going on around you at all times as clues and hints are so subtle, they will easily be missed. Soon, the plot unfolds and a murder will be committed. It is up to the guests to determine who the murderer is!
During the second part of the show, Sleuth's exceptional servers present the main course and refill beverages. The guests (which are already broken into groups) must brainstorm to conjure up inquisitive questions. Highly entertaining as questions about motive and ability are discussed over a delicious cornish hen, or prime rib. Each group will be allowed to present one question to a character of their choice. The characters MUST answer all questions completely and truthfully. – The third part of the show is the most interactive session between employees and guests in any attraction in Orlando. All the characters are brought to the front of the stage to engage in a Q&A will all guests. At the end of this session, all guests must write down who they think is the murderer. Winners receive a prize. The mix of great food, excellent theme, superb acting and flowing drinks will make you add Sleuth's Mystery Dinner Show to the "To-Do" list during your next visit to Orlando. Indulge in great food, and intrigue your mind at Orlando's Sleuth's Mystery Dinner Shows. Purchase your tickets online and save! Good investigative skills might win you an opportunity to be chosen for a cameo role in one of the comedic mysteries!
Sleuth's Mystery Dinner Show Information
Before The Show:
Fresh greens salad
Assorted crackers and our signature cheese spread
Dinner rolls with butter
Hot and cold hor d'oeuvres
Choice of Entree:
Honey-glazed Cornish game hen with herb stuffing, baked potato, vegetables, and cranberry sauce
Prime rib dinner (*additional charge) with baked potato and vegetables. The prime rib will be cooked medium
Four cheese lasagna (with or without meatballs, your choice) with vegetables and garlic bread
Mystery Dessert: – It's a Mystery
Alcoholic Beverages and Soft Drinks (unlimited, included in ticket price):
Bud Light, Michelob, California Blush wine, California Chablis wine, California Red Table wine *Please bring valid photo I.D. as alcoholic beverages will only be served to guests ages 21 and over.
Pepsi brand sodas, Sweet Iced Tea, Brewed Unsweet Iced Tea, Coffee, Hot Tea
Reviews
"Sleuth's Mystery Dinner Show was the highlight of our vacation. We traveled all the way from Long Island to visit the theme parks. Surprise, surprise – this act stole the show! The high quality actors are genuinely funny and clever. The food was delicious, and our servers kept the unlimited drinks flowing. We left with a full and aching belly; full from the food and aching from the laughter! What more can you ask for in a dinner show? I recommend this dinner show to all Central Florida visitors!" -Guest
"No wonder this show is a favorite among TicketMomma employees! Sleuth's Mystery Dinner Show clearly perfects the combination of dinner and a show. The crowd size is small so you will receive much more attention from the servers and characters. None of the other dinner shows have actors that can compare with the caliber of the cast at Sleuth's Mystery Dinner. When you come to the show, don't forget to bring your appetite and thinking cap. Your mind will be boggled trying to solve the mystery. The unlimited beer and wine will not help! However, it does make the already funny actors even funnier! I recommend this show to couples and adults looking for a change of pace in their vacations. WARNING: The content of the humor may not be suitable for children." -Sig  
"If you like dinner mysteries, you'll be intrigued by Sleuth's Mystery Dinner Show. Moving through a relatively moderate queue we were seated at our table. Small meatballs on cocktail sticks and additional appetizers were served. Before dinner members of the cast make jokes about themselves. Dinner consisting of rolls, salad, cheese lasagna, Cornish game hen, prime rib, and a beverage. We all tried to guess what the mystery dessert would be, it was Key-Lime pie! While eating pie, one of the eleven mystery performances, the Squires Inn began. Totally enveloped in the show, we found ourselves touring northwest England and our bus had broken down in Clifton country village. Squire Inn has welcomed us and offered us lodging. The proprietor has done everything to keep us there as long as possible. Come to find out our relative, an old pensioner, had been hiding treasure that once belonged to Mary, Queen of Scots. And from there the plot unfolded."
-Michael