Discount Kennedy Space Center Tickets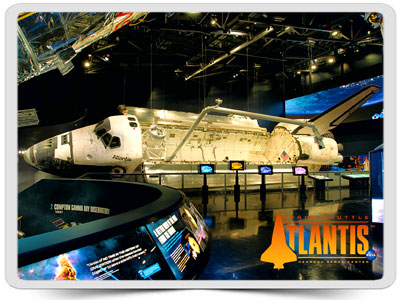 Kennedy Space Center has all new additions for the new year! As soon as you see the entrance you will come face to face with a 5,000 gallon blue-granite water fountain that stands tall at 30 feet and stretches seventy five feet. At the end of the engraved fountain you can find the new massive Nasa logo. With the new entrance to the complex you can also see all new presentations and guest speakers throughout the year. If you haven't been to Kennedy Space Center this year, it is definitely worth another visit!
Ever dream of being an astronaut? Ever wanted to travel to the outer limits of our atmosphere among the stars? Almost everyone has and almost everyone has a fascination with outer space. Kennedy Space Center is the as much an attraction as it is a monument to our desire to explore space.
Kennedy Space Center is a working space command center located in Cape Canaveral, Florida. This is home to the most brilliant minds and talented individuals in the world. We've all seen footage of rockets and shuttles being launched from the Kennedy Space Center on television. Now, bring your family and see the facility for yourself in person!
TicketMomma offers the General Admission pass to Kennedy Space Center that will allows access for guests to the entire Visitors complex, exhibits, and shows.
Also, you will have access to the IMAX films with this ticket. Don't hesitate to contact us now if you have any questions as our friendly representatives will gladly assist you with any questions you might have.
Interesting Facts:
Get a front row seat to one of the many rocket launches happening regularly at Kennedy Space Center.
All tours and guide books are available in eight languages for your convenience.
Pet kennels are provided free to visitors.
Kennedy Space Center Visitor Complex is operated for NASA by Delaware North Companies Parks & Resorts and is not supported by government or taxpayer funding.
Kennedy Space Center – Guest Reviews
"There was so many things to see and do at Kennedy Space Center, that my family and I had to take advantage of the 2nd day free special that they were running at the time. We were partly to blame because we get there until shortly after noon. As well as purchasing the tickets from TicketMomma for the maximum admission passes, we also took the bus tour that drove us around the facility. I highly recommend the bus tours. Highlights from our trip include: eating the "space" ice cream and watching the gigantic crawlers operate. Those machines are simply amazing."
-Sue
Kennedy Space Center – Adult Ages: 12 and up Includes admission to the Kennedy Space Center Complex, the bus tour to the launch pad and the IMAX theatre.
Kennedy Space Center – Child Ages: 3 – 11 Includes admission to the Kennedy Space Center Complex, the bus tour to the launch pad, and the IMAX theatre.