Walt Disney's Animal Kingdom Information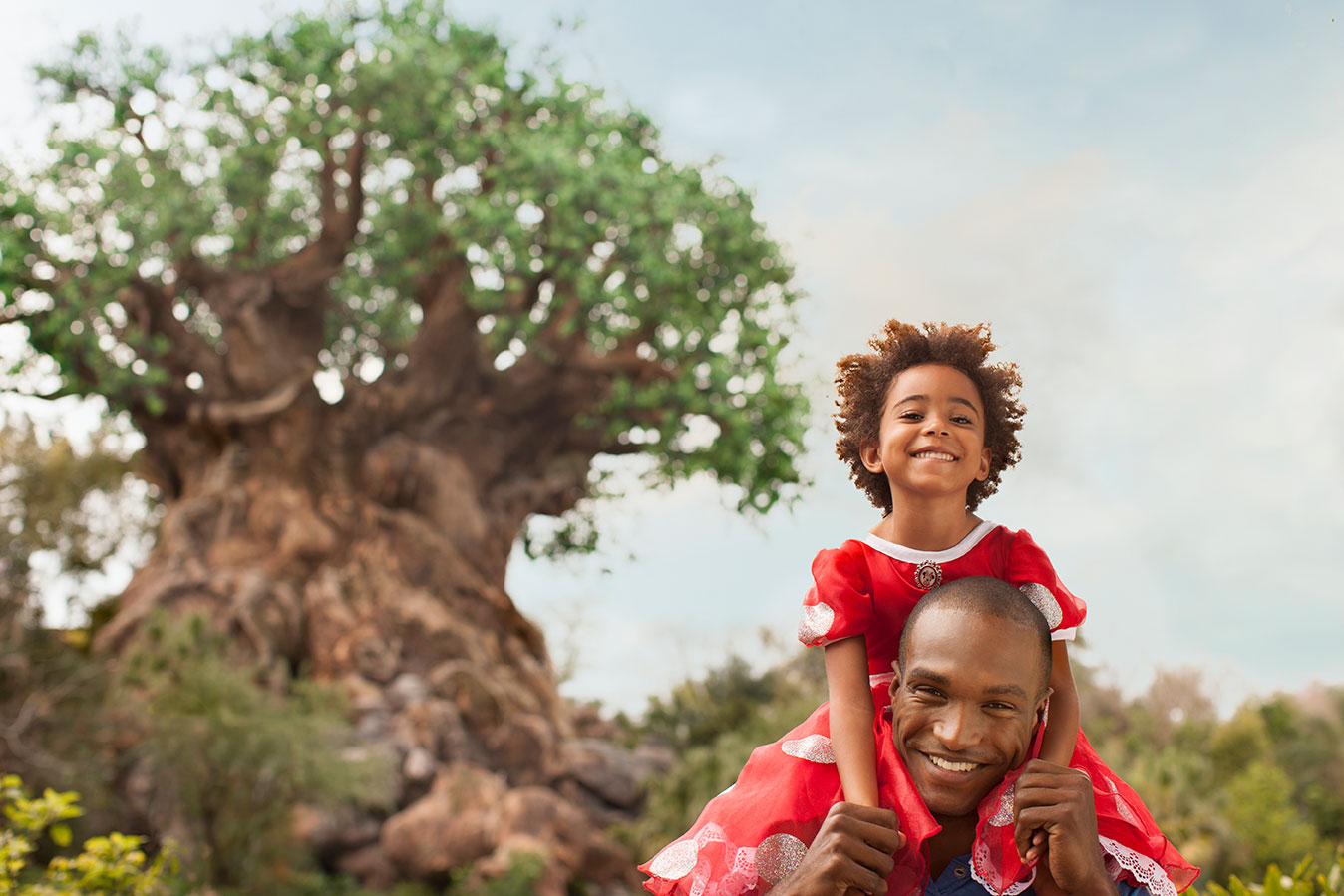 ANIMAL KINGDOM OVERVIEW
Disney World's Animal Kingdom is separated into 6 distinct areas: Oasis, Discovery Island, Pandora – the World of Avatar, Africa, Asia and Dinoland, U.S.A. This spectacular park, set on 500 acres, is where 250 species of about 1700 animals live, eat, roam and thrive in the beautiful Florida weather. Riding in a jeep into the wilds of the African Savannah, you will have the opportunity to see all these marvelous creatures as they wander through the different terrain that has become their home.
ANIMAL KINGDOM LANDS
PANDORA – THE WORLD OF AVATAR Visit a world beyond belief where there are floating mountains and cascading waterfalls. Where you can navigate deep into a bio-luminescent rain forest on Na'vi River Journey and fly on the back of mountain banshee in Avatar Flight of Passage.
OASIS The first area you come to once you have entered the park. It is made up of various paths that lead to Discovery Island, with many wonderful habitats along the way; including; spoonbills, ducks, fish, muntjac, Hyacinth Macaws, wallabies, giant anteaters, turtles and babirusas.
DISCOVERY ISLAND This is the main area centered in the park with pathways leading to the other areas. Here you will find the Tree of Life, as well as macaws, lemurs, saddlebill storks, Galapagos tortoise, axis deer, porcupines, kangaroos, small-clawed otters, flamingos, vultures, black crowned cranes and many other exotic creatures. The Tree of Life is a masterpiece of artistry, standing 145 feet high with 325 hand carved faces of the most impressive animals living here. A wonderful 3D film about the life of a bug is shown in the theater found in the base of the tree.
ASIA The first area to explore in Asia is the jungle, beginning with the Maharaja Jungle Trek; with komodo dragons basking in the sun, see the Asian tigers live in a hunting lodge and palace ruins often cautiously hidden; next are the black and white Malayan Tapir roaming the area and behind the tigers refuge you will see Blackbuck and Elds deer. Then we continue to the bat cage, where 32 Rodrigues Fruit and Malayan Flying Fox varieties hang out. Going on to the ruins, exquisite birds from Asia live in trees, on the ground or in the mud; Palawan peacock pheasants, fruit doves, masked plovers, white-rumped shamas, King parrots and Indian rollers. The sights are beautiful with the sweet smells of jasmine and honeysuckle wafting through the air. Kali River Rapids are a great water rafting ride that will cool you off on a hot summer day or get you wet regardless of the weather. Bring a poncho if you don't want to get too wet. Its a thrilling ride informing you of the terrible destruction we are committing on our planet and hopes that you will find a way to help conserve. The next exciting ride is the Expedition to Everest on a high speed train that is more like a roller coaster ride, complete with the Abominable Snowman trying to stop you.
AFRICA Enter through the village of Harambe which means "come together" in Swahili; which in reality is the main theme of this wonderful area. The Disney team went to Africa to search out some of the more interesting sights that would become part of their African land. Found were a fortress in Zanzibar, dilapidated old structure and home in Kenya, village replicated from an East African port and thatched huts built by 13 Zulu tribesmen from South Africa. Kilimanjaro Safari is based upon the continent of Africa and is an exceptionally wonderful place to enjoy the beauty of the kingdom's great animals. Boarding a safari truck, you start an expedition to explore this mighty land set on 100 acres, inhabited by lions, zebras, warthogs, ostrich, crocodiles, baboons, white-bearded wildebeast, hippos, black and white rhinos, elephants and giraffes with many other fantastic creatures thriving in the area. There are about 34 varieties of birds and animals for your eyes and enjoyment. Half way through the safari, poachers are seen and we are all in this together to stop the evil villains from destroying the magnificent elephants, mother Big Red and daughter Little Red. Gorrilla Falls Exploration Trail is the search for gorillas in the jungles of this 5 acre area. As we trek through the terrain, down into a valley, we see hippos, birds and fish. Further along we come to a research center with naked mole-rats, various rodents and reptiles, eventually entering a bird sanctuary, where the birds are flying all over and around you. Continuing along the trail, we spot gazelles, small antelope, Guenther's dik-diks, gerenuk and meerkats. There is an underwater viewing spot for the great hippos, an overlook in the savannas and finally a spectacular enclosure of silver backed gorillas. Rafiki's Planet Watch can only be reached by train and is hosted by Rafiki where small animals, a petting zoo and exhibits tell about the many attempts at conserving what resources and animals we have. The Wildlife Express Train travels through the savannas where various animal housing and caring areas are set up. Affection Section is a close encounter with small farm animals; goats, pigs, chickens, llamas, and sheep, since these are such friendly critters. Conservation Station is at the end of the trails where the Disney people have made every effort to inform visitors about the need and influence of wildlife conservation; with animal experiences, shows and games.
DINOLAND USA You'll see Finding Nemo-The Musical, Chester and Hester's Dino-Rama, Triceratop Spin, Preimeval Whirl, and Dinosaur.