Check out Pirates Dinner Tickets!
Orlando's Pirates Dinner Adventure Show is the "World's Most Unique Interactive Dinner Show!" This swashbuckling, sidesplitting, musical will keep your family on the edge all night. Presented on a enormous, fully rigged pirate's galleon, be shipped back in time and become part of an unforgettable live adventure. The Pirates Dinner Adventure is the perfect blend of comedy romance, action and adventure. From the hilarious antics of the pirates to the magical dance of the Golden Gypsy – the adventure never ends! While enjoying the Pirates Dinner Adventure.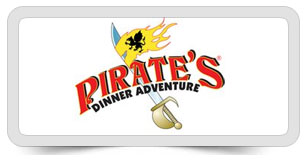 The new Treasure Tavern Dinner Show! A mind blowing experience full of fantastic food, incredible acrobatic stunts, dancing and singing! Make your night an adventure with this fun and energetic adult dinner show! The amazing taste of Treasure Taverns Rum and constant entertainment will have you coming back again and again!
Reviews
"Pirates Dinner Adventure is a swashbuckling adventure" – We started off the evening with a pre-show buffet. Assorted salads, tasty snacks, and special sauces. If you go, make sure that you save room for the main feast awaiting you! And a feast it was, Tossed Salad, Treasure's Chicken, Buccaneer Beef, West Indies Rice, mixed vegetables and much more. The backdrop for our dinner was a fully-rigged pirate ship were they provided action, romance and comedy. Hostages to a band of pirate led by the dastardly Sebastian the Black, we watched as these pirates stopped at nothing to plunder, pillage, and rob everyone. Not only do pirates like to pillage and plunder, but they like party in the famous Buccaneer bash, dancing and celebrating the night away! –Michael
---
"Pirates Dinner Adventure rocks!" – Action, romance and comedy are the main themes of this dinner show. Being guests of a princess, you will help her celebrate the victory of the king over a notorious pirate leader. Traveling gypsies will dance, tell fortunes, breath fire and swallow swords while guests are given appetizers and entertained. Children can participate in the activities. Activities climax when pirates kidnap the princess and the king's treasure. Hostages of the pirates will be well-fed. The show continues on a Broadway-style stage with a pirates galleon dominating the theater. Special effects, aerial acrobatics and comedic dialogue are prevalent through-out the show. Celebrate the rest of the night at the "Buccaneer Bash" with voluntary audience participation. –Jason