Discount Disney Blizzard Beach Tickets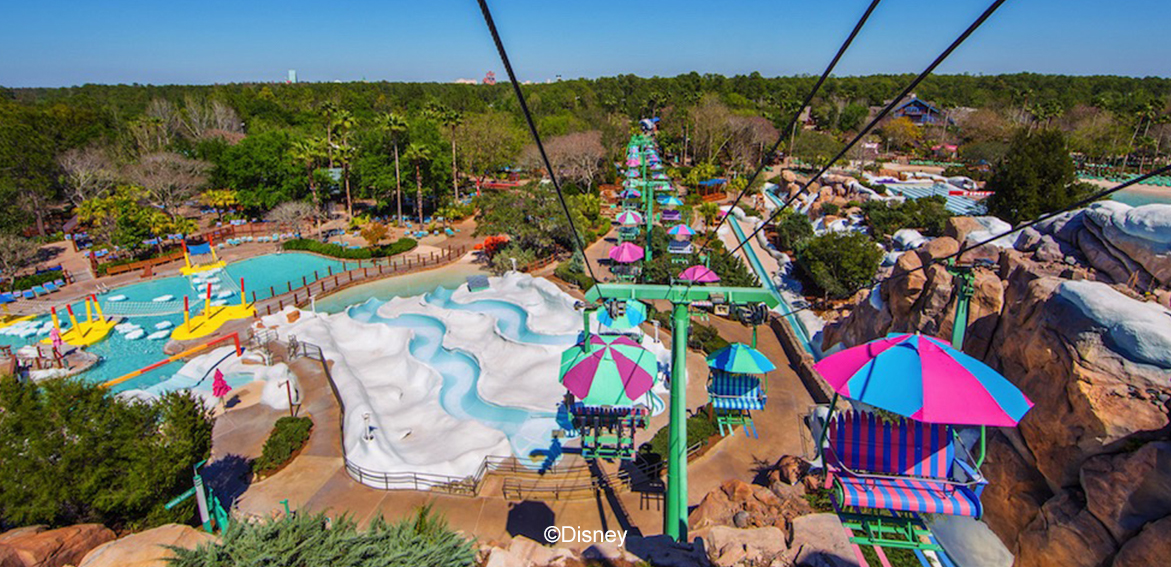 CHECK OUT BLIZZARD BEACH!
Blizzard Beach is Disney's second water park and the most innovative water park that Disney has to offer. Blizzard Beach is themed after a freak snow storm came rushing through Florida. Then brilliant inventors decided to open a ski resort. The snow didn't last long so the project was scrapped. But before they completely tore it down, an alligator was seen barreling down one of the flumes. This sparked an idea to the inventors to open a water park. The alligator was then named Ice gator. This alligator soon became the icon of Blizzard Beach.
Disney World's Blizzard Beach
Blizzard Beach has been nominated as one the world's best water parks several years in a row. Blizzard Beach is built on an artificial hill called Mount Gushmore. This hill is actually the fifth highest point in Florida. Mount Gushmore is separated into three slopes; the green slope, the red slope, and the purple slope. These color coded sections are to help guest identify where there are in the park. The largest and only ski slope in Florida became the largest and fastest water-slide in the country.
The atmosphere is that of an alpine snow village so every one here is laid back. Enjoy the thrilling water slides and the mystical aura. Blizzard Beach is by far the best water park to visit when you're in Disney.
Suggested tips from the Walt Disney World Resort:
Don't forget your sunscreen
Some of the rides and slides (including) Summit Plummet require riders to be at least 48 inches in height
Study a map of the park prior to your arrival to become familiar with the location of the attractions that interest you most
Swim attire with rivets, buckles, or exposed metal is not permitted on the attractions
Lockers, towels, life vests are available for rent (at Snowless Joe's)
Lounge chairs are only available on a first come, first serve basis
Alcoholic beverages or glass containers are prohibited
Parking and inner tube usage are included with admission into the park
The ground will get hot, protect your feet and bring sandals or water shoes
During the busy summer months, the best time to visit is after 3 pm