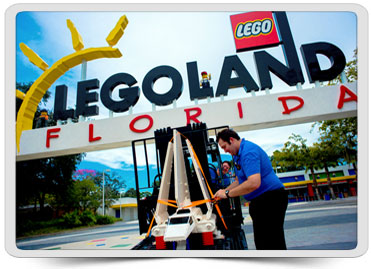 LEGOLAND® Florida has joined the ranks of Orlando's many theme parks. Most everyone knows the popular LEGO building blocks from childhood. These plastic bricks interlocked to create just about anything, from tanks to the Eiffel Tower to Star Destroyers! Just about everyone can tell you of the days when they built that one cool creation. Well, those bricks have made their way back into the entertainment scene in the form of a fantastic LEGOLAND theme park! This is definitely one theme park that you and your family do not want to miss out on while you are staying in Orlando, Florida. A cool fact about LEGOLAND® is that it is located where the popular Cypress Gardens previously stood.  In fact, LEGOLAND incorporated the preexisting gardens into its construction. Be sure that you make it out to LEGOLAND® Florida, where you will have a great time riding and creating all things that are LEGO®. When it comes to prices and tickets, you know Momma knows best! Our great discounted prices will have you in the theme park and enjoying all the fun and adventure of LEGOLAND® Florida!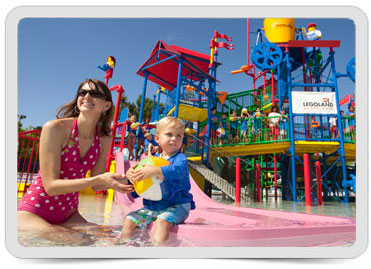 Florida is known for always being sunny throughout the whole year, which can be great for vacationing families to the Central Florida area. But there are days where you might want to avoid the theme parks because of how hot and sweaty it can get. There is a reason the call Florida the Sunshine State. But if you are like so many other families visit the number one destination for vacations, you want to pack as much entertainment into the short time you have here as you can. So what's a great way you can enjoy a day full of fun and theme park action while cooling off from that hot sun? Central Florida is home to a wide variety of water parks that offer you a great day in the cool waters, so you can enjoy your day at a theme park without skipping a beat. Orlando's newest water park is open as a sister park to the popular LEGOLAND® Florida. The LEGOLAND® Water Park features a wide variety of rides and entertainment for you to fill your day with! The attractions you will find at the LEGOLAND® Water Park range from water slides to wave pools, lazy rivers to huge playgrounds. No water park is complete without a wave pool, and here at the LEGOLAND Water Park you can find just that. This wave pool starts out shallow and gradually gets deeper, just like the beach. Younger kids can enjoy soft rolling waves in the shallow water while the more adventurous can explore the larger waves in deeper waters. A signature ride is the Twin Chasers, a set of two intertwining water slides that extend nearly four hundred feet. These enclosed waterslides are a great way to race friends and family until you plummet into a refreshing pool of water below! Splash Out is a set of three separate water slides that feature a sixty foot drop before tossing you into the water below where you 'splash out.' The Build-a-Raft river is one ride you can't find anywhere else, here you can exercise your creativity and build a raft from foam blocks. Then you take your raft and float down a thousand foot long lazy river in your creation with friends and family. Who can build the best raft? If you have kids in the family then can enjoy the Joker Soaker, a fun, interactive playground full of slides, obstacles and even a water bucket that dumps three hundred gallons of water over the playground! These shallow waters are perfect from kids of all ages. If you have even smaller ones you can take them to DUPLO® Splash Safari, where the youngest of kids can enjoy the perks of the park! So don't miss out on a day of fun and entertainment just because of the heat! The LEGOLAND® Water Park has you covered; when it comes to cooling off no one does it better!
LEGOLAND 1 Day Adult Ages: 13 – 59 1-day admission to the LEGOLAND FL Theme park.