Tomorrowland in the Magic Kingdom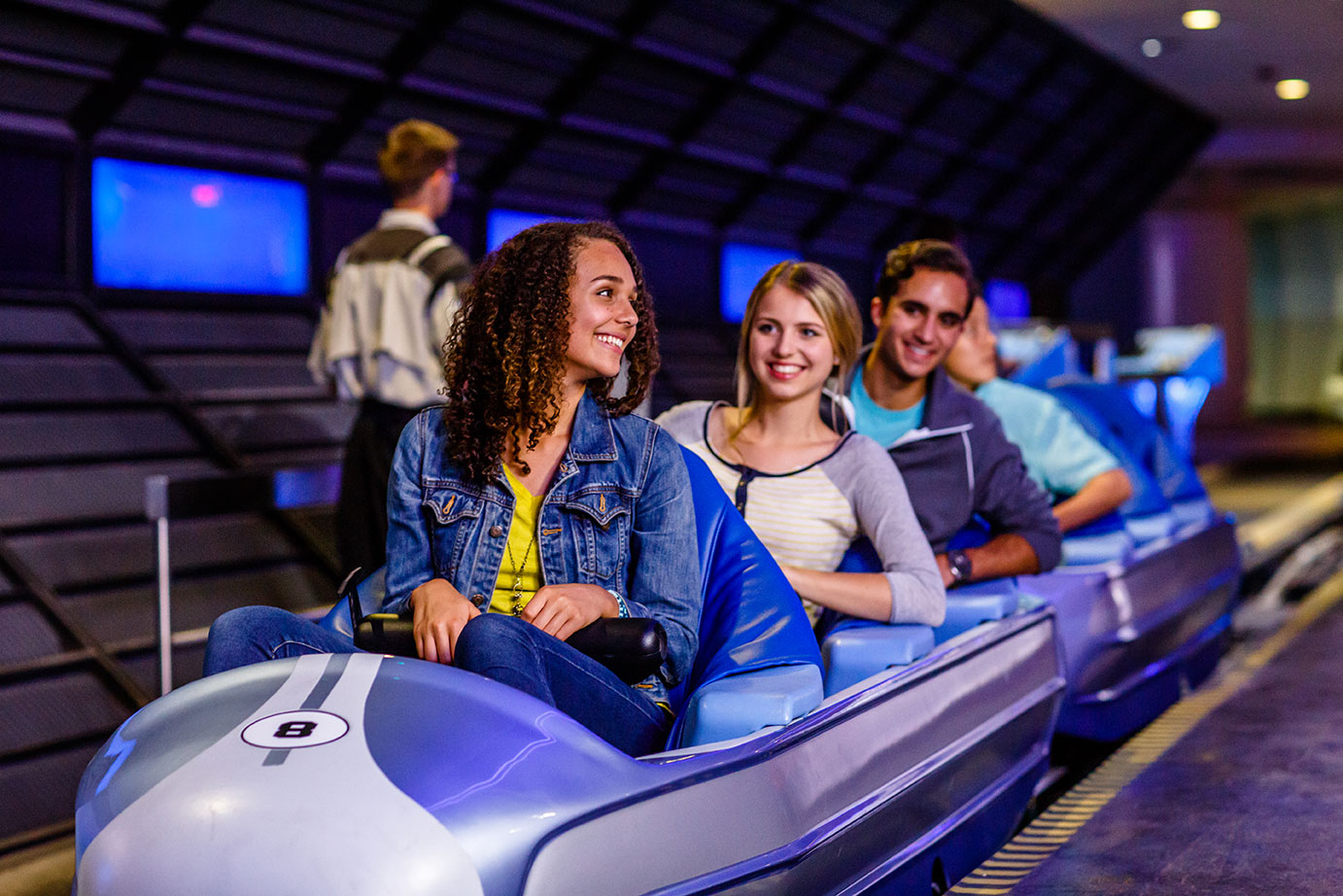 TOMORROWLAND ATTRACTIONS
Astro Orbiter takes you on a journey into space; how far and how fast you blast into the ride depends, as most or many of the rides, on your own imagination and joys. If you can just put yourself into the child like euphoria of this ride as you rise and fall, in space, by your own hand; with visions of reflective metals, brilliant colors and sounds of thrills and squeals, you will thoroughly have a great time.
Buzz Lightyear's Space Ranger Spin is a very exciting ride that allows you to blast away at the evil aliens as you control your space vehicle chasing these terrible creatures. As you score points, your car can spin any way that you want to gain the most points needed to save our planet and the universe from these nasty beasts. A great thrill for your children that will of course make your day chasing the aliens and giving your boys and girls a great adventure.
Monsters, Inc. Laugh Floor is another venue for the kids to enjoy and be part of the show as they must power the city of Monstropolis with laughter. Chief jokester Mike Wazowski and his goofy and zany friends do everything they can to make the laughter rise to increase enough power for the city to run. Jokes can be texted in by phones and you have the chance to hear your joke and the reaction of the audience as everyone becomes involved in this kid krazy show. This is very popular with the kids and the show is never the same because of the audience participation.
Space Mountain is a fantastic thrilling ride that takes you on an incredible journey through space, complete with the darkness and stars shining as you wind over, up and around a huge sphere set somewhere in the galaxy of the future. It is wonderful for kids of all ages, as you bolt along at what seems like jet cars zooming into another dimension. It has been a favorite for everyone coming to Tomorrowland and will be always. The imaginations of all wonder if something will happen as they speed through a world not familiar to them, along they know that it is the unknown ahead that pumps the adrenaline into their bodies creating an even more awesome ride.
Tomorrowland Speedway is an exciting ride and wonderful thrill to the many children that sit beside their parents, only in this futuristic setting, they drive and their folks sit as the passengers. It is a new found experience that they thrive in and will remember for the rest of their lives. Although the speeds may deter some families from taking the ride or waiting in the usual long lines, it is for the children that they have come, because when our beautiful little boys and girls are happy, we are
Tomorrowland Transit Authority PeopleMover is a relaxing ride that will give you a preview about the various rides in the area of Tomorrowland. It is a futuristic idea of how pollution free mass transportation should be, and the tremendous help it could be for our planet.
Walt Disney's Carousel of Progress is the wonderful and incredible journey of an American family traveling through history according to the discoveries and improvements made by the original invention of electricity. As you progress through the program, you progress through time, with the many inventions that have been made by mankind to make life easier and much more enjoyable for the benefits and imaginations of the American family. Although these monumental changes have affected more than just Americans, they have helped all of mankind, and it shows that we can do unbelievable things if we just work together for the improvement and betterment of everyone on this earth