Main Street, U.S.A in the Magic Kingdom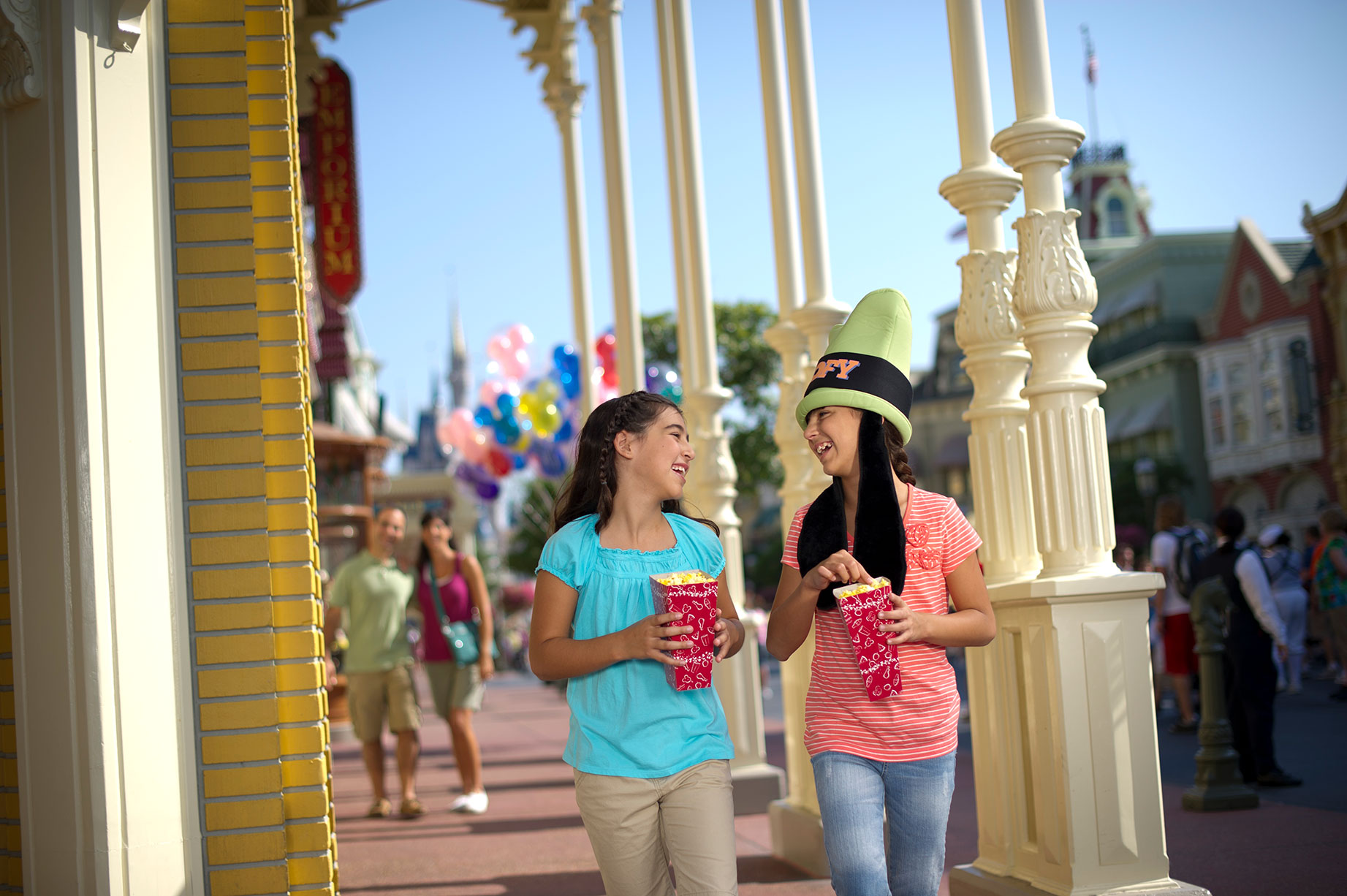 MAIN STREET, U.S.A. OVERVIEW
Main Street U.S.A. is modeled after the great turn-of-the-century era. With buildings resembling the 1908 era architecture, this area is both colorful and detailed making every shop stand out with its own unique style. One of Walt Disney's co-workers offered the him a photo of Fort Collins, and Walt Disney went right to work on designing Main Street U.S.A. to look like the photo. Now this area of the theme park can be found in all the Disney Parks around the world!
Main Street U.S.A.'s major attraction is all the shops that line the street. It is modeled after the 1908 era, and every building that connected down this long street is a fully functioning shop for souvenirs and Disney products. With merchandise from every character you can shop for your favorites, Mickey, Minnie, Snoopy, Donald Duck, Princes, Princesses and much, much more! With so much Disney souvenirs and such a wide variety you can buy something for all your family and friends! Here you can also buy snacks and beverages while in the theme park.
One of the yearly traditions for Walt Disney is to change the theme of Main Street U.S.A. based on the season. During the Holiday Seasons the area undergoes a massive redecoration displaying Disney's ability to participate in the holidays. Around Christmas when Mickey's Very Merry Christmas Celebration is going on the street becomes filled with snow, in Florida! With constant snow and Disney characters you can enjoy the great entertainment that goes all year long on Main Street U.S.A!
The Walt Disney Railroad is accessible by the Main Street Station. This railroad ride tours the park, and can be often be found at the very entrance to the theme park. Here at the Walt Disney World Resort, in Magic Kingdom this railroad station can be seen from the entrance to the theme park, visible high above from the ticket area. Hop on this vehicle for a fun filled ride around the theme park!
Main Street U.S.A. is the introduction to the theme park and is the perfect way to get in to the Walt Disney World mood. At the far end of Main Street U.S.A. is Cinderella's Castle, the Magic Kingdom's icon. Under this castle are daily shows and entertainment! So get ready to witness this streets awesome atmosphere, because if your going to Magic Kingdom your about to walk through this fun filled street of Disney Magic!