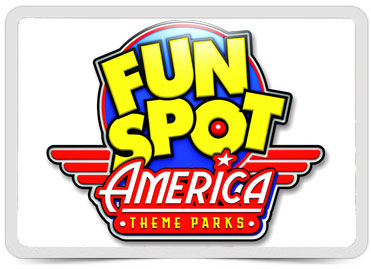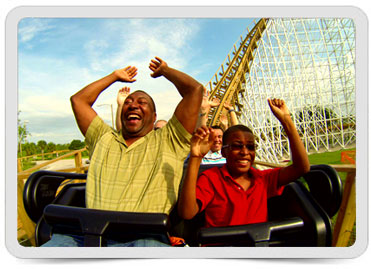 Fun Spot America Theme Parks is the ideal day/night out for fun seekers of all ages. Bring the kids out, or have a date night without the kids, but either way, fun is bound to happen! The greatest feature at Fun Spot would have to be the free general admission. If you're taking the children out for a day of fun, games, go carts, and more, buy them single day passes to ride all the attractions then get yourself in FREE. It's that simple. With so much to do at two GREAT locations, you and the kids are in for a great treat.
Fun Spot America – Orlando offers an arcade, bumper boats, go carts, bumper cars, thrill rides, and so much more! The arcade space is dedicated to games operated by tokens that allow players to win tickets that can be redeemed for great prizes at the prize counter.
Outside, guests find MORE lights and even MORE excitement with the go carts, thrill rides, and even Kids Spot – rides specially made for the little ones. There are several tracks at Fun Spot Orlando, each with its own special features. The Commander, also known as the green track, features the double dip bridge. The Quad Helix Track, also known as the yellow track, is the longest track at Fun Spot Orlando and 1,600 feet long (487.68 meters) with twists and turns, straight-a-ways, and a lot of great fun. The Conquest, also known as the blue track, is 1,000 feet long (304.8 meters) and is the tallest track at Fun Spot. On top of the twists and turns offered on the Quad Helix, Conquest offers a hill that sends drivers and their carts down a semi-straightaway at a high rate of speed. This feature is great to get ahead of your friends and fellow competitors. The Thrasher track, also known as the red track, hosts only single passenger carts, with slick turns including a 180 degree turn that'll send your cart sailing in a drifting fashion. This track is great for experienced drivers looking for the thrill of a good race. You also won't want to miss out on Orlando's only wooden coaster, White Lightning!
Aside from the go carts, Fun Spot also offers thrill rides for the older kids, young adults, and adults alike and a special spot for children. For thrill rides, Fun Spot has included bumper boats and cars, Paratrooper, a tilting rotating ride and The Scrambler, a spinning ride that features arms with carts that spin independently from the ride itself. The Scrambler will definitely send you spinning, but it will also provide laughs and excitement all at once! The Revolver, a 100 foot high (30.48 meter) Ferris wheel gives riders a grand view of International Drive and surrounding areas. For the younger children, an area of the property hosting rides specially designed for kids. This area features several rides including a carousel, the Freedom Flyer roller coaster, Skycoaster, and many more!
Fun Spot also has a location in Kissimmee that offers a lot of the same action and adventure as Orlando's Fun Spot including four go cart tracks, Kid's Spot, and thrill rides. Added to the fun at this location is The Skycoaster, the world's tallest swing. At a maximum height of 300 feet (91.44 meters) up to three riders are at the mercy of gravity and two cables that hold up to 9,000 lbs (4 082.33 kilo-grams) each. At the top of the Skycoaster, riders are counted down from three to one then a rider pulls his/her own rip cord to start a 120 foot (36.576 meters) freefall which then turns into a swing at speeds of up to 85 MPH (136.79 KPH). In addition to the Skycoaster, Fun Spot Kissimmee offers Hot Seat, Screamer, Flying Bobs thrill rides, a Midway Style arcade and more!